Flagship Merchant Services Review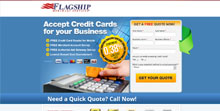 Call for
FREE Quote
866-373-9044
Transaction Rates
Risk Accepted
All are Eligible
Per Transaction
$0.19 to $0.21
With so many credit card processing companies available to pick from, it can be a daunting task to find the one that is the perfect fit for your business. You want to make sure you find one that will have all the features and services you are looking for. Additionally, you want to make sure you pick a company that is solid and reputable. Flagship Merchant Services is considered one of the top companies in the industry and one you will definitely want to consider. Here is a look at what they have to offer.

Processor Highlights
eCommerce, Wireless, Retail, MOTO
Free Terminal and Mobile Card Reader
Free manual online processing
Free Authorize.Net payment gateway
Free eCommerce cart & setup
Free American Express setup
Dedicated Account Representative
Funds clear within two business days
Electronic check conversion
24/7 support and customer service
Contract Term
Month to Month
Call for FREE Quote
866-373-9044
Low Rates And Fees
Flagship Merchant Services offers some of the most competitive rates in the industry. Currently they are offering a promotion where you can get your account set up and started for free. There are numerous additional free services you will receive when you open an account with them including gateway software, shopping cart set-up, telecheck set-up, online reporting, reprogramming of your equipment and 24/7 customer service support.
A Variety Of Accounts To Fit Your Needs
Flagship Merchant Services offers a variety of accounts and can accommodate just about any business imaginable. Whether you are a brick and mortar retailer, a restaurant business, a business on the go needing wireless services, an internet location and more you will be able to find an account to fit your needs. Here is a look at what the different accounts offer:
Internet Merchant Accounts: Flagship offers ecommerce accounts with all the features you cold possible need. Your business will be able to accept a variety of payments including credit cards, electronic checks, gift cards and debit cards. Additionally, your account will come with fraud prevention, easy transaction management and free help.
Phone Order Merchant Accounts: Flagships phone merchant account plans allow businesses to either enter card not present transactions through a terminal or right over the internet. Account holders will have 24/7 customer support help, the ability to check their account right on line and a fast processing platform.
Retail Merchant Accounts: Retail merchant accounts offer the ability to accept all major credit cards and debit cards. Businesses will have access to on line account activity, technical support when needed and fast transaction turnarounds.
Restaurant Merchant Accounts: Flagship offers restaurant owners the features that they need. Account holders will be able to accept all major credit and debit cards plus have the ability to add on tips and add a bar bill to a dinner bill. You will also get around the clock support, easy access to your account on line and more.
Wireless and Mobile Accounts: Flagship's wireless accounts offer business owners the ability to process credit and debit cards on the go from just about anywhere. As with other Flagship accounts you will also have around the clock service support, access to your account on the internet and a fast processing time.
Everything Else You May Want To Know
Flagship Merchant Services has been servicing businesses since 2001 and has been voted the #1 merchant account provider since 2009 by Top Ten Reviews. They are known for their top notch customer service, innovative products, up to date technology and the ability to meet their customer's needs.
Call for FREE Quote: 866-373-9044