What's Mobile Commerce (mCommerce) and why should you care about it?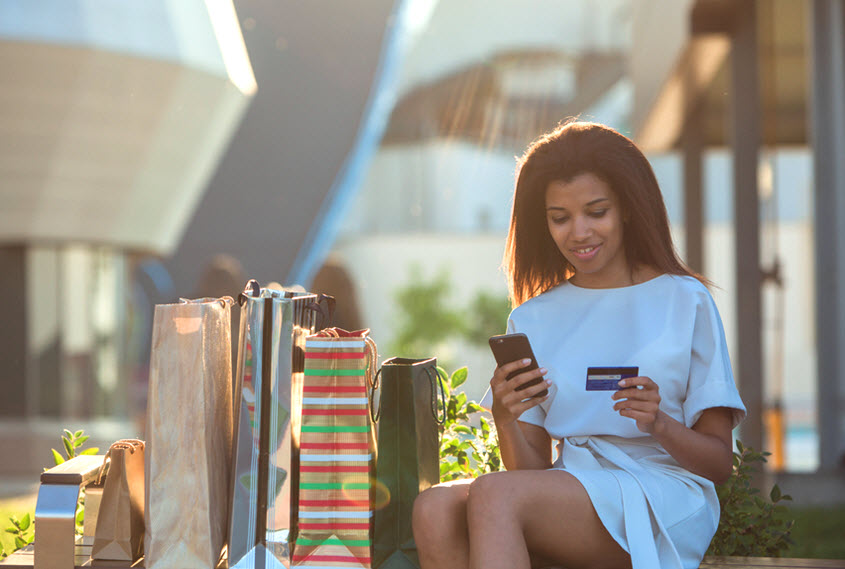 Originally coined in 1997 by Kevin Duffey at the launch of the Global Mobile Commerce Forum, Mobile Commerce (also known as mCommerce) refers to the delivery of electronic commerce capabilities directly into the consumer's hand, anywhere, via wireless technology. In other words, it's any kind of financial transaction that occurs through a mobile — from sending your friend money for next week's concert tickets to ordering a new sweatshirt from one of your favorite retailers' mobile apps.
If you think of eCommerce as a large umbrella tree, mCommerce is a growing branch, reaching down to meet customers on the go. As we become increasingly reliant on our smartphones, mCommerce is becoming the norm. Global M-Commerce sales are projected to double between 2018 and 2021, with mCommerce's share of total online retail increasing to almost three-quarters, according to a forecast cited in Research and Markets Global mCommerce 2018 report.
The growing popularity of mCommerce comes down to the fact that it's incredibly convenient. You no longer have to go to a brick and mortar store or tear yourself away from your phone to use your laptop in order to shop, do banking or make mobile payments. Instead, mCommerce allows you to meet your customers where they are and provide a better customer experience.
Here are a few other ways mCommerce can be beneficial to your business:
Faster, easier purchases.
Not only does mCommerce allow customers to make purchases on the go, but it also makes them faster by eliminating the need to connect to a server, as one would with a traditional eCommerce site.
The ability to send push notifications.
Instead of relying on email — which, let's face it, most of us already receive too much of — mCommerce allows you to send customers push notifications directly to their smartphone. This is a great way to alert your customers about sales and promotions while drawing them back to the mobile app.
Deeper analytics.
You can learn so much about your customer through mCommerce, like their age, sex, location, and shopping habits. You can then take this information to tailor your product selection to exactly what your customer loves and needs. This can also help with making marketing efforts more effective, targeted and personal. After all, nothing feels better than receiving a push notification about something that you're legitimately interested in — whether it's something new you're excited about or a sale on an item you use all the time.
It provides a better customer experience overall.
As outlined above, many of us are now using our phones to shop because it just feels more streamlined to make purchases through designated apps. Combine that with increased speed,  more personalized customer service and the flexibility to shop anywhere; it's easy to see how mCommerce has the ability to offer an amazing customer experience.
It isn't going anywhere.
If you think mCommerce is a flash in the pan trend, think again. The complete flexibility of mCommerce technology means that it isn't going anywhere, in fact, it's likely only growing from here as more people realize it's power.