Interview: LevelUp Raises $21 Million for Merchant Processing with Zero Transaction Fees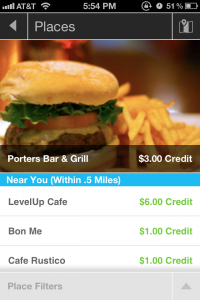 The mobile payments market is rapidly evolving — small start-ups are taking on the established processing behemoths in a race where winner may take all. Adoption of mobile payments has slowly, yet steadily increased in the United States recently, and with so many companies clamoring to outshine their competition, it is apparent many businesses are counting on mobile payments to be an integral part of the near future and are even hoping to make credit cards obsolete. The convenience and incentivized rewards offered to both merchants and consumers cannot be ignored for much longer by savvy businesses and smart shoppers.
Enter LevelUp, a payment processing service that has a one up on all other payment processors: they've done away with pesky merchant transactions fees which are instead reinvested into their business by creating discount and incentive campaigns to increase consumer interaction. The company has recently raised $21 million in venture capital due to their bold, yet clever approach to payment processing.
Founder, CEO and "Chief Ninja" of LevelUp, Seth Priebatsch, was kind enough to field a few questions CCP.net had about the company and their success.

CCP.net: Charging merchants transaction fees has been the standard business model for the credit card processing industry. How do you think your new paradigm will influence the competitive aspects of the industry?
Priebatsch: Yes, charging merchants transaction fees has been the standard business model for payment companies for a couple decades, but it was already a dying model before we entered the space.
Transaction fees cover the cost of moving money, but the process of moving money is a commodity. It provides no value to merchants. Payment companies know this, which is why they're dropping transaction fees to compete with each other. LevelUp decided to skip this "race to the bottom." Instead, we're choosing to providing value beyond the transaction by giving merchants business-boosting capabilities through LevelUp campaigns. Instead of charging processing fees on all transactions, we only make money on transactions related to a successful campaign: say, a first-time visit (customer acquisition) or after multiple visits (customer loyalty).
We expect other payment companies to follow. Interchange fees will become too small to matter, so payment companies are going to have to think of other creative ways to add value beyond the transaction, just as we are.
CCP.net: How does LevelUp notify users of promotions and deals set up through LevelUp Campaigns? Push notifications via proximity? Email?
Priebatsch: It's super easy to see the merchants taking LevelUp all around you. Just tap the 'places' icon in the right hand corner of the app. This brings up a list of businesses in order of proximity, and simply shows how much credit you have at that merchant. We also offer a map view that lets users check out nearby places and the amount of credit offered at that place.
We also use a lot of social sharing options to help users invite their friends to try out a place on LevelUp. This viral activity is more effective, more relevant and more valuable to a business than say a daily-deal bulk blast.
CCP.net: Does LevelUp help or advise merchants on how to create a successful campaign?
Priebatsch: You bet! We offer a variety of campaigns, and each merchant works with a LevelUp rep to select campaigns that will provide the most value to their business.
CCP.net: As a business, in order to start working with LevelUp, will I need a LevelUp payment station?
Priebatsch: To start accepting LevelUp, businesses only need to download the LevelUp merchant app (available for iPhone and Android) for free.
Businesses have the option to use a LevelUp payment station, which we recommend because it makes the counter experience really fast and clean. The payment station includes a glowing dock and a customized Android phone that's connected to the T-Mobile network. It's also free!
We can also integrate straight into your POS unit offering a seamless experience. We don't have 100% POS integration coverage yet, but we will! In the integrated scenario you can use our scanner or your own. Our scanners are free and super good looking, enhancing the consumer experience just like the standalone terminals do.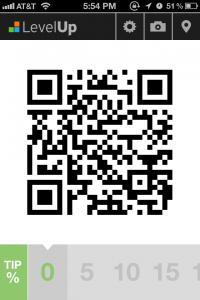 CCP.net: Is there an initial signup fee for new merchants?
Priebatsch: Nope.
CCP.net: Can consumers utilize all major credit cards including American Express and Discover?
Priebatsch: Yes, any credit or debit card.
CCP.net: What level of data encryption does LevelUp utilize for security?
Priebatsch: LevelUp takes security very seriously. We don't store sensitive data, including credit/debit card information on our servers ever. Instead, data sent to our servers is encrypted then immediately sent to Braintree Vault, a globally respected payment gateway, for storage. What's more is that our personal QR codes do not store credit card information. They simply refer to a series of redundantly-secure systems and associate themselves with the user. They also change randomly, so no one can "steal" an image of someone else's QR code.
CCP.net: Google Wallet is pushing for Near Field Communication technology and Apple is rumored to be releasing their own version of a mobile wallet which would tap into its 400 million iTunes accounts with active credit card information already in it for the next iPhone release. How has/will Google Wallet and Apple's Passbook affect LevelUp's business model? Could LevelUp switch away from QR codes and adapt NFC if that's where the market takes it?
Priebatsch: Google Wallet's push for NFC hasn't affected us, because very few phones still have NFC. If, down the road, NFC becomes mainstream, then we'll have no problem adapting. At the moment, though, QR codes are still the best (and most secure!) way to put mobile payments in the hands of everyone, so that's the payment method we're using. How the payment occurs – be it NFC or QR code or something else – is really just a technicality, though. Providing value beyond the act of paying is way more important in the race to win mobile payments than the medium.
From what I can tell, it looks like Apple's Passbook app is designed to be a wallet that stores things like movie tickets and coupons, not an app that completes transactions. Of course, if the next iPhone does have NFC, the plan for us is what it's always been: keep providing value beyond the transaction. And, do you really want a payment network that only works on iPhones (not androids or blackberry) anyways?