Payment Processing Without the Swipe: With Square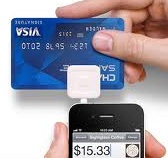 Square is a tiny credit card processor that makes it possible for small businesses to swipe their customer cards and use their smartphone for payment processing.  The product launched in 2010, and over half a million small businesses have signed up to use Square to process credit cards, but the majority of consumers are not yet familiar with the device.
Square and Smartphones for Credit Card Processing
The latest product by Square's creators is an iPad application that turns the iPad into a cash register.  They call it the Square Register.  Customers can pay for their products with their smartphones using Square's Card Case application, but there is no need to physically swipe a credit card or sign a receipt.  It's similar to how iTunes or Amazon allow shoppers to make purchases with "one click" – the payment information is stored and it allows you to quickly speed through the buying process without having to locate your credit card and slide it through a reader.
What's the cost?
When merchants sign up and use Square the only fee they will pay is a 2.75% charge on each individual transaction. There are no other service fees, contract fees, equipment fees, etc.
Customers using the Square's Card Case to pay for their purchases don't incur any additional charges for doing so.
Benefit: Open a "Tab" With Square
Let's say you are a customer headed to a coffee shop.  The first time you visit, you'll swipe your card and it will remain on file with Square.  Every visit after that, you can browse the menu and make your payment for your order with the press of a button on your smartphone – similar to opening a tab at the bar.  In the near future, consumers using Square's Card Case app will be able to order ahead of time.
Card Case allows consumers to shop by giving participating retailers their name – as simply as "charge it to Dave".  The chief operating officer of Square indicated in an interview that the company hopes to make point of service terminals and cash registers obsolete.
Who uses it already?
Currently, small businesses participating in the Square launch with the Square Register app  capabilities include small retailers, restaurants, food vendor trucks and hairdressers in New York, Washington, Los Angeles, San Francisco and St. Louis.  Customers who have installed the Card Case app on their smartphones will be able to view menus and inventory listings or special offers from merchants nearby who are using the Register app.  In fact, when a customer is within two blocks from a merchant, a merchant can tell they are nearby, see their past orders, and can even send them a coupon for their favorite item based on previous orders.
Will you use the Square and associated apps for your business credit card processing needs?  Will you allow your customers to open a "tab" and make payment with their smartphones? The receipts are stored digitally, customer behaviors are tracked (allowing retailers to keep track of how many people order a donut with their coffee, for example).
Square is currently processing over $3 million in payments daily.  They receive a flat 2.75% per transaction.  If you're currently paying high tiered rates for credit card processing or are looking for a more mobile solution, you might consider the Square card reader.