*
Our Top 5 Credit Card Processing Picks of 2021
Get Started with Credit Card Processing
Start
Accepting
Credit Cards
1.
Get Free Quotes from the Companies Below
2.
They'll provide You a Merchant Account and Payment Gateway with Signup
3.
Start Accepting Credit Cards Online & In-Store - It's Fast & Easy!
+
FREE Credit Card Reader (with contract)
x
+BONUS FREE Credit Card Terminal (with contract)
*
Our 2021 Top 5 Credit Card Processing Picks
Last Updated: Sep 20, 2021 | *Advertisement
Retail Rates
0.29% - 1.55%
Internet Rates
0.29% - 1.89%
Merchant One provides credit card processing and various other merchant services for multiple business types, from small eCommerce stores to restaurants and businesses with physical locations. They provide state-of-the-art POS systems and payment terminals, and claim new merchants can be set up and accepting credit cards within just 24 hours of applying. Plus, they have a 98% approval rate, so chances are your application will be approved – even if you have less-than-perfect credit. Get Rates - Read Review

Retail Rates
Call for rates
Internet Rates
Call for rates
Clover is known for their POS systems, but did you know that's just one aspect of their small business merchant services? They also provide credit card and other forms of payment processing, gift card and loyalty programs, and financial services, offering secure and reliable same day funding with 24/7 dedicated support. Clover connects business owners to the best-in-class services that help build a powerful online presence for their clients. Get Rates - Read Review

Retail Rates
Call for rates
Internet Rates
IC + 0.40% - 1.99%
PaymentCloud provides merchant services for a wide range of businesses. They offer same day funding, competitive fees, and world-class customer service. With multiple gateway integrations and recurring billing capabilities, PaymentCloud aims to deliver state of the art payments technology to businesses at any stage of their growth, from startups and restaurants to eCommerce giants. There are no setup fees and credit is no issue, just straightforward credit card processing without the hassle of big banks. Get Rates - Read Review

Review
Not all submitted reviews are posted but all submitted reviews are factored into our rating. CreditCardProcessing.net believes the posted reviews best reflect the overall opinions of all submitted reviews.
Fill in missing and/or invalid fields.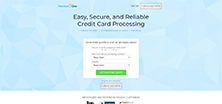 Merchant One provides credit card processing and various other merchant services for multiple business types, from small eCommerce stores to restaurants and businesses with physical locations. They provide state-of-the-art POS systems and payment terminals, and claim new merchants can be set up and accepting credit cards within just 24 hours of applying. Plus, they have a 98% approval rate, so chances are your application will be approved – even if you have less-than-perfect credit. ... Get Rates - Read More