Sen. Dick Durbin and Major Retail Associations Voice Opposition to Visa, Mastercard Settlement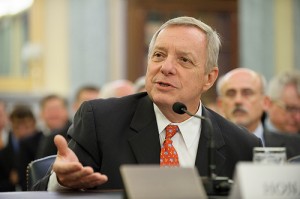 Senator Dick Durbin, the author of the Durbin amendment to the Dodd-Frank Act, which capped debit swipe fees at 24 cents per transaction, has come out and voiced his opposition to the pending Visa and Mastercard settlement, citing that the terms don't do enough to prevent price collusion in the future.
"The settlement does nothing to change the anticompetitive fee-fixing that Visa and MasterCard do on behalf of their member banks," Durbin said. "In fact, it gives Visa and MasterCard broad and permanent legal immunity to continue doing exactly that in the future."
The seven-year-old litigation, which lists over 7 million plaintiffs, is an attempt to quell sizable credit card processing fees that merchants have paid in the past by allowing them to pass the fees along to customers, a move which is currently barred by both Visa and Mastercard.
Parties officially opposed to the settlement include the National Grocers Association, the National Community Pharmacists Association, the National Association of Convenience Stores, as well as Wal-Mart Stores Inc. Target Corporation said through a press release on their website that the settlement would "perpetuate a broken system."
The settlement will have to get approval from Judge John Gleeson of the U.S. District Court in Brooklyn by Oct. 19, after which the plaintiffs will have to agree to the terms, which many decry as a minor and temporary appeasement of legitimate grievances.
Peter Larkin, CEO of the National Grocers Association, has stated that he will pursue further legislation if the settlement goes through, citing the necessity of "further reforms."
Image credit