Payment Processing Advice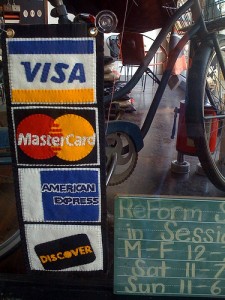 As of January 27th, 2013, Visa and Mastercard are allowing businesses to pass credit card surcharge fees onto customers, breaking a rule both companies have strictly enforced for decades.
The change came amidst the $7.25 billion settlement Visa, Mastercard and a slew of major banks agreed to pay out to retailers nationwide. Included in the terms of the settlement was a provision allowing businesses to pass surcharges onto customers so long as a notice of the practice is clearly displayed at the entrance of the business, at the point of sale and itemized on the receipt.
Over the years, a handful of states have passed legislation to explicitly prevent such practices, including California, Massachusetts and Florida, even though the practice has always been outside of Visa and Mastercard's guidelines. Many small businesses across the country have ignored this, choosing to tack on a flat rate of 50 to 75 cents to each transaction, which many customers begrudgingly pay.
Now, Lawmakers in 11 states have introduced legislation to protect consumers from potential credit card surcharges, including Tennessee, Vermont, South Carolina, Kentucky, Hawaii, Pennsylvania, Missouri, Rhode Island, New Jersey and Utah.
Though this legislation may be welcomed by consumers, the National Retail Federation, who protested the settlement, said to NBC News that it was "a waste of the legislative process." The federation, which represents retailers nationwide, believes legislators' time would be better spent bringing "greater competition into the marketplace by prohibiting the price fixing of the hidden swipe fees merchants pay to process credit card transactions."
The lawsuit was brought about in 2005 after a group of retailers accused the processing giants of anticompetitive behavior by secretly colluding to fix processing fees, thus inhibiting fair competition in the marketplace.
Be sure to check back with CCP.net for continuing coverage of the proposed legislation.
Image credit